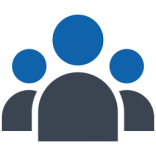 Always meet friends of the same gender and in groups of 3.  No room for awkward silences or unwanted advances.
We respect your privacy. Your profile is never public. Only those you have already matched with can see you.
Meet shockingly compatible people in your area.
We3 enables you to meet friends near you that fit your lifestyle, have lots of common interests and share your beliefs and values.
"I met two wonderful new ladies who shared so many similar interests and without We3 I wouldn't have ever met them!"
"Just like to say, I formed a London tribe a week ago and met up with them! […] We were super similar and on the same wavelength! Your algorithm really works!"
"We3 was a great way for me to connect with some adorable ladies. My 9-5 job schedule was limiting my social circle to just office friends. Making "new" friends after the age of 30 isn't easy. We3 did it for me. We met over coffee first and had an instant liking for each other."
"I really didn't know what to expect when I signed up for We3. It's great, because I was paired up with fantastic women and we get along so well!"
"What I liked most about the experience is that I went into the first meeting excited but not expecting too much in terms of us staying in touch as "tribes" but we really hit it off and had so much to talk about and we love to eat out and that's what we have been doing every time we get together – try one new place at a time!"